Adding a Custom HTML Box to Your Widget
Add custom elements to your Widget with the HTML Box component. 
Note:
We're currently in the process of releasing a new version of the Wix Answers Widget. Adding a custom HTML Box to a widget is not yet available in all Wix Answers accounts. 
To add a Custom HTML Box to your Widget:
In the Wix Answers app, go to Settings > Support Channels > Widgets.
Select the relevant Widget.
(For multilingual widgets): Click the language next to Settings for and select a language.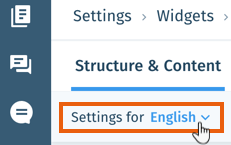 Scroll to the bottom of the page and click + Add Component.
Select Custom HTML Box. 
Click Manage next to Custom HTML Box.
Enter custom HTML code and click Save. 
Note:
Repeat steps 4-7 to add more than 1 Custom HTML Box. 
Was this article helpful?