Customizing Your Help Center's Contact Page
Create a Help Center contact page that makes it easy for customers to contact you, and lets you collect all the information you need to help them.
Note:
We're currently working on releasing new help center settings. If the steps in this article do not match your help center settings, click
here
for directions. 
---
Editing the Top Section
Edit the layout, contents, and background on your contact page's top section.
---
Editing the Contact Form Section
Your contact form includes default fields such as email, subject, and description. Edit your form's header and add custom fields to collect the information you need from customers when they submit tickets. 
---
Tip:
Click + Add Section to add a Category List or Selected Articles section to your Contact Page.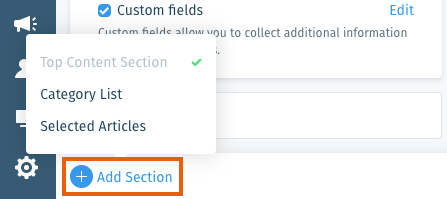 Note:
To undo changes that you have not saved, click Revert at the top right. 
Was this article helpful?