Installing a Live Chat Widget on Your Wix Site
Provide real-time chat support from any page on your Wix site. To embed your Live Chat widget, copy its code and add it to your Wix site's Custom Code section. 
Before you begin:
To install a widget on your Wix site, your site must be upgraded to a Premium Plan.
Learn How
Note:
We're currently in the process of releasing a new version of the Wix Answers widget. If you don't see the steps below in your widget settings, click
here
for directions. 
---
Step 1 | Create Your Live Chat Widget
If you haven't already, create a widget and enable the Live Chat contact option. You can also edit your widget's content settings, chat options, and business hours.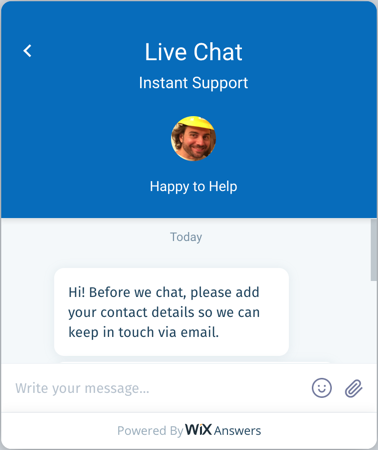 ---
Step 2 | Copy Your Widget's Code
Copy the widget code you'll be adding to your site's Custom Code in the next step. 

---
Step 3 | Add the Code to Your Wix Site
Next, paste the code in your Wix site's Custom Code section.  
For multilingual widgets:
The install code for each of your widget's languages is unique. Repeat steps 2-3 above for each language in which you'd like to install your widget.
Note:
Currently, adding more than one widget per page is not supported by Wix Answers. 
Was this article helpful?