Adding a Table of Contents to an Article
Create a table of contents (TOC) so readers can easily navigate your article's sections. The TOC displays on the side of your article and consists of the article's anchored subtitles. Customers can navigate directly to relevant subtitles when they click within the TOC. 
Customers can click any heading from your TOC to quickly go to the relevant section on the page. Each anchor has a unique URL so you can
link directly to specific sections of articles
. Keep in mind that your TOC reflects your heading level hierarchy with H2 subtitles furthest to the left and H3 - H4 subtitles indented to the right. 
Note:
Your TOC does not display on smaller screen resolutions and mobile devices to ensure your article's content ratio is preserved. 
Learn more about adding a subtitle to your TOC:
---
Adding a New Anchor
Add a new anchor if you haven't yet added the subtitle. When you add an anchor, you create a new H3 subtitle. You can change the heading size by hovering over the subtitle and clicking H2 or H4. 
To add a new anchor:
Go to an article's Content Editor. 
Hover over the left side of a content block and click the Add a block icon . 
Click the Subtitle icon .
Click Anchor.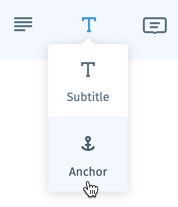 Enter a name for your anchored subtitle. 
---
Adding an Anchor to an Existing Subtitle
To add an anchor to an existing subtitle:
Go to an article's content editor. 
Hover over your subtitle and click Add Anchor.
To remove an anchor from a subtitle:
Hover over the subtitle and click Remove Anchor. 
Was this article helpful?